Generation uninsured: what are the challenges and opportunities for the insurance industry?
April 19, 2017
Younger renters evidently do not have an insurance habit yet, and this presents a challenge for insurers; but this is also an opportunity. Generation Rent offers a large untapped market in the UK that is going to grow considerably over the next few years. What can insurers do about this?
Guidewire Insight
These are turbulent times for the housing market, the younger generation, and the organizations in business to insure them. A recent survey of young British adults from Generation Rent reveals that 60% of young renters aged 20-30 have no insurance, despite a majority saying they had suffered a loss while uninsured. This blog, written by our own Keith Stonell, analyzes what's behind these disappointing results. Some of the characteristics that emerge in the survey are evident in many parts of the world, including the U.S. market. No matter the geographic location, there are four key steps Stonell says insurers may want to employ to connect with young renters, to change their non-insurance habit, and convert them to committed customers.
Predictive Analytics: Four Steps to Data-Driven Success | Insurance Innovation Reporter
March 17, 2017
A data-and-analytics-driven organization delivers better business results all around. Executives get a comprehensive system that uncovers measurable results, and business users get easy-to-consume information that helps them perform their jobs more effectively. Essentially, predictive analytics transforms the business and becomes fundamental to every aspect of it.
Guidewire Insight
Effectively using predictive analytics across the entire business can be complicated. There's a lot to consider, such as who will use it, how to make the data usable, and how insurers can oversee the operation and impact of the models on an ongoing basis. The process begins with building great models, but it certainly doesn't stop there. In this article, Wade Bontrager, Vice President, Business Owner, Predictive Analytics at Guidewire Software, shares a four-step process to making a successful go at predictive analytics.
Insurers take big data velocity to heart
March 09, 2017
"Insurance companies quickly are becoming data companies – truly, big data companies – handling not only the traditional actuarial and risk-related statistics, but also data flowing in from telematics, customer interactions and transactions, fraud-prevention algorithms, geodata, social media, mobile app engagements, and a host of other sources. It's great to have a lot of data, but it only becomes valuable when it's assembled into actionable insights."
Guidewire Insight
With so much data flowing in and out of insurers' systems and so many ways to use data, an understanding of the power, potential and limits of data science is more important than ever. Having the right data talent in the right positions, blogger Joe McKendrick writes, will enable insurers to dig through all this data, understand which nuggets are of value, and ignore those that are simply a lot of noise.
Machine intelligence: Technology mimics human cognition to create value
April 17, 2017
Artificial intelligence—technologies capable of performing tasks normally requiring human intelligence—is becoming an important component of analytics efforts. Yet AI is only one part of a larger, more compelling set of developments in the realm of cognitive computing. The bigger story is machine intelligence (MI), an umbrella term for a collection of advances representing a new cognitive era.
Guidewire Insight
Predictive analytics are rapidly being adopted by the insurance industry. And, the next iteration of this technology is already accessible to property & casualty insurers for use in a variety of ways. Analyzing natural language patterns and naturally occurring trends in a book of business, insurers are able to improve risk assessment, pricing and underwriting. In the claims area, machine learning can assist with fraud mitigation and auto loss prevention. As part of Deloitte's Tech Trends 2017 report, this specific section shares a spectrum of opportunities CIOs can consider with machine learning.
Facing digital reality
March 16, 2017
Regulation, product complexity, and insurers' large balance sheets have kept digital attackers from insurers' gates. That is changing, but in ways incumbents should embrace. They can flourish in the digital age—if they move swiftly and decisively.
Guidewire Insight
To flourish in the digital age, technology is key. For incumbents, a core transformation may be the first required step on the journey to the digital age. As this compendium introduction from McKinsey & Company states, once there, data and analytics can improve core operations and enable new business model launches needed to compete in the digital world. Outside of the technology, you have to be able to make a high volume of intricate decisions, often interrelated and under uncertain conditions. That's not just a matter of one visionary, such as the CEO; it's instantiating and empowering that level of confidence at the appropriate levels in the organization so that people can confidently make decisions that move a project forward.
The Convergence of Core Systems, Data, and Analytics
February 17, 2017
"There is currently a procedural, operational, and strategic information gap that insurers face. Claims managers wonder, "How do I obtain more efficiency in my claims handling?"; the CEO might ask "How will my business look in three years with these decisions?"; claims adjusters would like to know, "I've estimated four of these in the past; give me the average to start."; the CMO might ask "Based on my current experience, which markets should we target?"; product managers wonder "What new coverages can I offer to help differentiate my products?". Embedding analytics within the core processes helps bridge this information gap.
Guidewire Insight
Insights from Guidewire's Satyen Paneri following his participation in a webinar about a new Strategy Meets Action (SMA) white paper, "Core Systems, Analytics, and the Data Explosion – Empowering Modern Core Systems with Data and Analytics". As a sponsor of this research, Guidewire was able to share how insurers can discover the greatest benefits when their core and data systems are fully integrated with analytics operationalized throughout the core systems. Think 'Data in Motion' which perfectly illustrates how dynamic, accessible data at the point of decision can empower the insurance worker to make better decisions for their customers.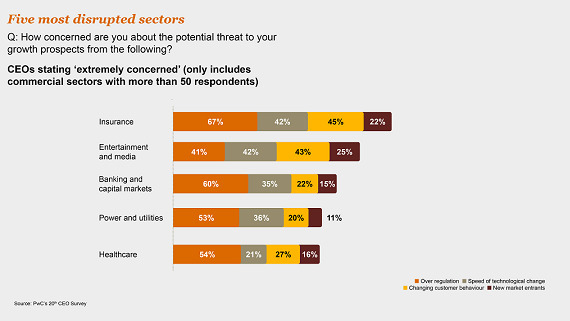 Embracing possibility, boosting innovation
April 11, 2017
"Despite soft premium rates, low interest rates, and subdued economic growth in many developed markets, insurance CEOs are optimistic about their own companies' prospects. Over a third (35%) are very confident that they can achieve revenue growth over the next year and more than 80% are at least somewhat confident. However, insurance CEOs are acutely aware of the disruption and change facing their industry, the transformational impact of which is now evident in areas ranging from robo-advice to pay-as-you-go and sensor-based coverage."
Guidewire Insight
PwC surveyed 95 insurance CEOs in 39 countries for its 20th CEO Survey and found that concerns over regulation, the pace of technological change, shifting customer behavior, and competition from new market entrants have continued to rise from their already high levels. We at Guidewire have seen similar concerns. The battleground for competition is shifting toward a more technology enabled kind of domain, elements such as digital distribution, omnichannel service, application of predictive analytics to key insurance decisions, all of these things have become highly consequential to the way insurers will compete and are preparing to compete in this next generation.
Q&A: Marcus Ryu on Technology Trends, Core Systems and Guidewire's Plans | Insurance Innovation Reporter
March 13, 2017
During the last decade insurers answered the question of "buy versus build" with regard to core systems, leaving the task of coding to the experts—software companies. Guidewire Software's success exemplifies this trend as much as any other supplier, and its recent acquisitions manifest other important trends rapidly shaping the industry's future, including cloud sourcing and advanced analytics.
Guidewire Insight
It's a very exciting time. It's absolutely a time of change, from new industry entrants to advances in digital engagement and machine learning. Guidewire has voluntarily embraced that we have to take on more complexity, more product threads than in the past, not just one domain, but digital, advanced analytics, driving hard for a new mode of delivery—cloud—and adding further complexity. In this Q&A with Insurance Innovation Reporter, Guidewire CEO Marcus Ryu shares how the company is helping insurers adapt and succeed in this ever-changing market.
Insurance disrupted | Deloitte UK
February 15, 2017
The digital revolution is felt to be a threat by many in the insurance industry, especially following the increase of innovative new entrants and the rapid rise of comparison websites. Insurance disrupted focuses on nine applications of digital technology that could have the greatest potential to disrupt general insurance over the next ten years.
Guidewire Insight
Whether you view the digital revolution as a time of threat or one of opportunity, this UK-based report by Guidewire partner, Deloitte provides good insight into nine so called 'killer apps' - apps that utilize digital technology to change P&C/general insurance. Are they on your radar? Is your company poised to seize the opportunities that lie ahead? Not sure? Then this research report is a must-read.